Workshops range from a two-hour taster session to weeklong residential binge clowning.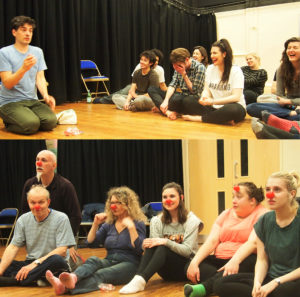 Frank's teaching is heavily influenced by Franki Anderson's work of Fool with a strong emphasis on playfulness, fun and unlocking participants' creativity. He has found that one his favourite ways of learning for himself is the passing on of his knowledge to others.
He creates a safe space to allow people to experiment and explore their potential. He has worked with professional actors, community and youth theatre members, prisons and special needs groups. His workshops are influenced by the wishes and needs of the group and include: Play, Clown, Devising, Object-play.
Workshops range from a two-hour taster session to weeklong residential binge clowning.
Organisations he has worked with include:
British Council Washington DC, USA; Drama Studio London, Graeae theatre company, East 15, Birmingham School of Acting, University of Northampton, University of East London (UEL); Pauline Quirk Academy (PQA), Rote Nase Clown theatre.
"Frank is a truly joyous practitioner to work with – guaranteeing a positive (and often hilarious) experience for our students. He has both directed and devised productions for BA Acting at the University of Northampton and his infectious creativity and unrivalled knowledge of clowning brings the best out of those around him. Whether you want him for a workshop or a bigger project – I couldn't recommend him highly enough."
Owain Rose, course leader BA Acting University of Northampton
"The workshop brought out such sparkle and tenderness from all of us."
"Great fun overall and he's a great facilitator… It was surprisingly cathartic and powerful experience."
"I learned loads and laughed, brillant workshop, embraced the ridiculous…"
"Every human being is a clown, but only few have the courage to show it"
Charlie Rivel
This workshop is about finding the pleasure of being ourselves and playing with nothing and everything. The Clown might feel stupid, ridiculous and completely inappropriate- always with a huge sense of pleasure in playing.
We learn that it is okay to make mistakes and fail… the audience love the Clowns for sharing their unique ineptness with them. Our everyday weaknesses turn into the Clown's strengths. Clowns liberate themselves from the demands of being 'good', proper and well behaved. We use a mixture of physical exercices, improvisation games and techniques to create clown theatre. We look at the performer-audience relationship and begin to discover and release our inner idiot.
Physical Theatre and Devising
We learn techniques of physical theatre, tension, rhythm, telling stories with our bodies and creating visual, physical theatre in an ensemble. We use play and object manipulation to devise stories. The starting point may be an image, a song or a story. As devisers we play with the conventional roles of actor, writer, director and designer.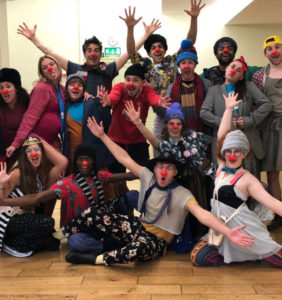 "Frank led a brilliant dynamic workshop looking at clowning and play with the Access All Areas performance company. It was really good fun and the group just let go and found exciting dramatic moments with each other and learnt to share these with an audience."
Nic Llewellyn Artistic Director Access All Areas
Includes mask making and playing with masks. Devising scenes with masks.
Frank is a performer, devisor and director. He loves facilitating the creative process for solo artists and theatre companies.
His work may consist in helping to polish a number or a gag and also in provoking the artists to find new ways of expression and to create new material, identifying the games and giving permission to break rules.
Frank has directed solo clown and duo clown acts and devised shows with a large cast of professionals and students.
He will encourage, challenge, provoke and stimulate the rehearsal process and with the aim of creating a show personal to you and your skills – a playful, moving, unexpected work accessible to a wide audience.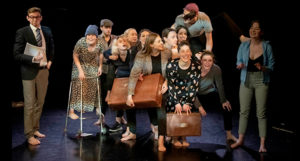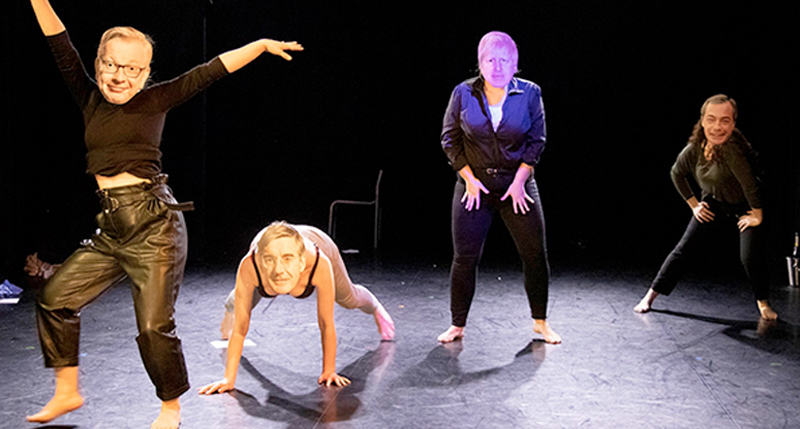 Corporate Workshops / Teambuilding
With a background in performing, directing and teaching Frank uses his skills to facilitate teambuilding workshops companies. He enables people to "play" together, reconnecting and discovering enjoyment in the workplace.
All groups face challenges; pressure, politics and relationships between colleagues and lack of motivation.
Frank's workshops are tailored for each client and include:
Drama and improvisation games to help individuals listen to and collaborate with each other.

Role play.

Status games and exercises in connecting with your audience/listeners.

We may also explore playing with the smallest mask- the red clown nose and get to know each other in new ways. This approach is dynamic, interactive and playful. Outcomes include laughter and enjoyment, enhanced productivity and creativity, a reenergising of the workplace and an increase in productivity and motivation levels. Team members will feel seen and heard and lose the fear of making mistakes.
Frank's solo shows have played around the world from Soho Theatre London to the Kennedy Centre in Washington DC (USA) to the Columbian International Clown Festival, Bogotá.
This interactive mix and mingle act is an ideal icebreaker, creating gentle chaos and laughter. Initially appearing as a professional waiter, the guests soon realise that this is a waiter with a twist.